Features & Benefits
• High strength cast aluminum housing
• Shock absorbing frame and carry handle
• Water tight strain relief power cords
• Interchangeable with all other brands
• Serviceable parts easily available
• 3 Models to match any size pour
• Comfortable shoulder strap available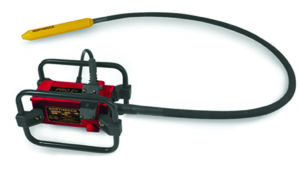 The Northrock Pro Series of electric vibrators includes three models that range from the Pro 1.5 for small jobs requiring a 1 1/2″ head or less, to the Pro 2 + the most versatile motor on the market that can power up to a 2 1/2″ head, and finally the Pro 3 which is a true work horse for the most demanding applications.
Built Tough
Northrock internal concrete vibrators are built to take a beating. Electric motors are protected by a high strength cast aluminum housing that also dissipates potentially damaging heat. A rugged shock absorbing frame protects the housing while acting as a convenient carrying handle for the unit. Watertight, strain relief power cords take all kinds of abuse on the job and power switches are protected by the frame. The vibrator heads themselves are factory sealed and require no maintenance. Optional soft tips and coated heads are available to provide protection for expensive forms and epoxy coated rebar.
Special Heads
In addition to the standard heads we also offer short heads (1″, 1½", and 2″ dia. x 4″ long) for use with tilt-up walls, slabs and decks. Coated heads (1½" to 2½" dia.) protect epoxy rebar from damage that can cause premature failure and soft tipped heads that save expensive forms from marring
Flexible Shafts
All NORTHROCK flexible shafts are constructed with rubber coated steel braiding which prevents stretching, and hardened steel inner liners that act as the bearing surface for the inner care. We have both standard duty shafts and pencil shafts. The standard duty shafts are stiffer for better poking control, while the pencil shafts (only used on ¾" – 1¼") are more flexible and used to reach tight areas such as block wall cells. Flexible shafts are available in 1′ to 30′ lengths. 60′ shafts are available via a simple shaft connector.
Selecting NORTHROCK Electric Motor
1. Determine diameter of head based on radius of influence needed as shown on vibrator specifications chart
2. Determine length of shaft needed to reach bottom of form
3. Using selections from steps 1 and 2 above, determine the appropriate motor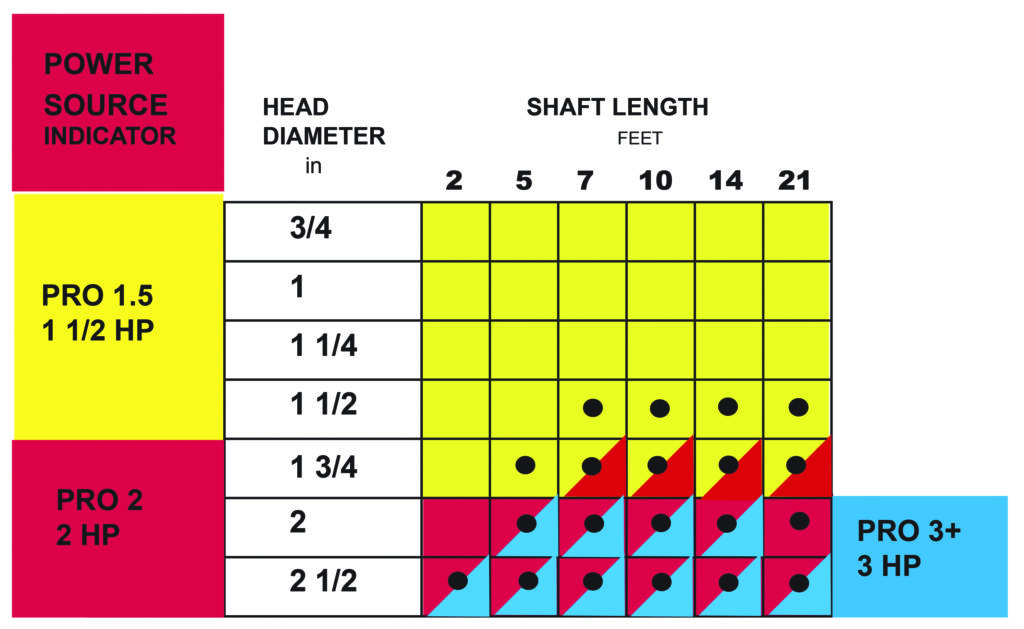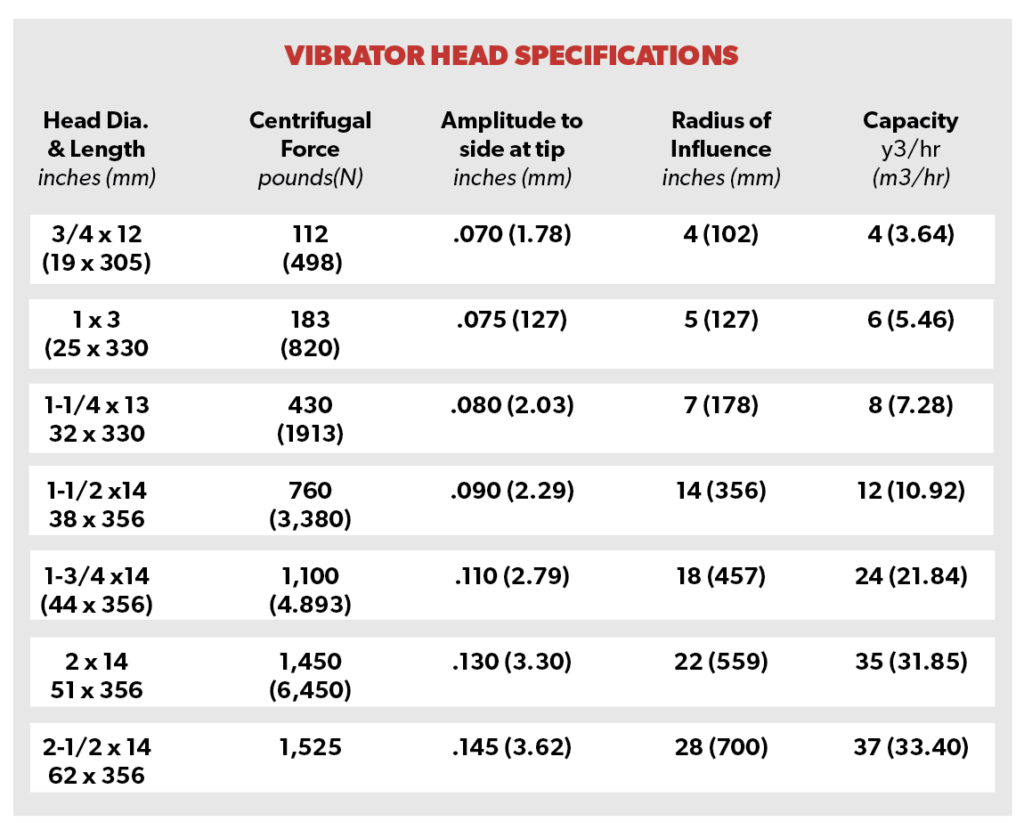 Special Heads
Short heads for use with decks, slabs and tilt-ups, keep the head in the concrete, keeping the bearings cool.
Coated heads protect epoxy coated rebar from nicks that could accelerate corrosion.
Soft tipped heads help prevent marring of expensive forms.